Closed
On Wednesdays.
The Year End/
New Year holiday season.
2941-1,
Iiyama, Iiyama City,
Nagano Prefecture
389-2253 [MAP]
TEL 0269-67-0139
FAX 0269-67-0141
Welcome to the World of Familiar Feeling Handmade Dolls!
The Mayumi Takahashi Museum of Doll Art, the hometown of dolls, is about 100 mins from Tokyo Station, about 90 mins from Omiya Station, 75 mins from Kanazawa Station, and you can be there in about 5 hours when coming from the Kyoto/Osaka region from Shin-Osaka Station via Nagoya Station.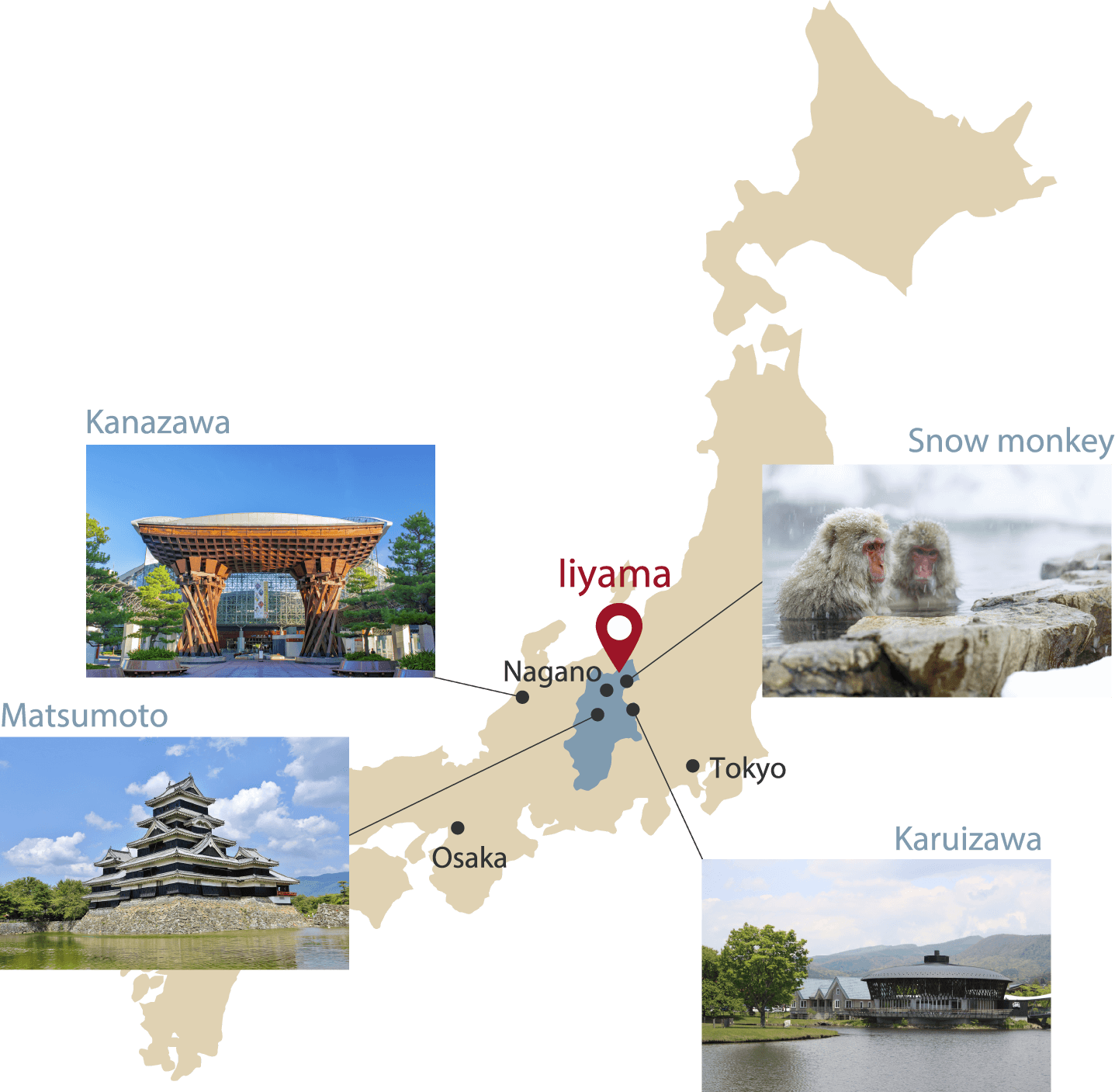 ABOUT
Mayumi Takahashi
Profile
Mayumi Takahashi is a doll maker living in Iiyama, Nagano Prefecture.
A self-taught doll maker, after much trial and error she arrived at her current method of making dolls. Her dolls are primarily patterned after the old men and women living in the snow country of Iiyama, and many of her works reflect their kindness and strength.
In addition to that, many of her dolls were born from memories of her hometown and family, or from a desire to leave something physical from "precious things I don't want to forget."
In 1998, she won the grand prize in the display category of the "Yuzawaya Creation Awards" organized by major handicraft chain Yuzawaya, as well as winning many other awards. Beginning in 2003, an exhibit with the theme of "gifts from back home" was held 95 times at locations all over Japan during the next 7 years, drawing 1.8 million people. Based on the success of that exhibit's 7year tour of the entire country, Ms. Takahashi now has fans around the nation.
FACILITY INFORMATION
About the Mayumi Takahashi Museum of Doll Art
The Mayumi Takahashi Museum of Doll Art is an art museum where you can enjoy both a world of dolls created by the artist and the unspoiled landscape of the hometown that serves as its host at the same time. A grandfather's smile, and a grandmother's banter, a scene around the dinner table...take in these nostalgic sights you'll feel you've seen somewhere before.
The museum has 3 galleries, where you can always see 100 of Mayumi Takahashi's dolls, give or take a few.
At the shop, there is everything from publications such as collections of essays by Mayumi Takahashi and books on her works of art to postcards and hand towels of popular works, and other original goods for sale.
At the annex's "Café Hana Akari," sweets are lovingly crafted one by one by the staff from hand-picked ingredients so that customers can eat them with peace of mind are quite popular. The gift shop across from the museum, "Yukiakari ," has delicious local sake and traditional handicrafts of Iiyama for sale, and pieces by craftspeople working in Nagano Prefecture are very popular.
EXHIBITION
AT OTHER MUSEUMS
ACCESS
Mayumi Takahashi's Museum of Doll Art, the hometown of dolls, can be reached by Hokuriku Shinkansen Line "Hakukata" trains that stop at Iiyama Station, with the fastest travel time of 1 hour 41 mins from Tokyo Station, about 1 hour 15 mins from Kanazawa Station, or about 11 mins from Nagano Station, which is home to Nagano's popular sightseeing spot of Zenkoji Temple.

And from the Kyoto/Osaka region, it takes about 5 hours to reach from Shin-Osaka Station by way of Nagoya Station. From here, it is about 30 mins by car to the popular "Jigokudani Yaen-Koen," where monkeys bathe in the hot springs.
BY CAR
From Tokyo
Approx. 2 hour 50 minutes (240km)

Approx. 3 hour 40 minutes (247km)
From Chukyo region or Kansai region
From Chukyo region:Approx. 3 hour 30 minutes (290km)

From Kansai region:Approx. 7 hour 10 minutes (573km)
By Train